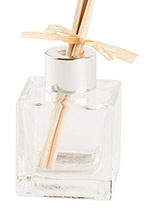 Whether you're looking for the perfect gift or your next DIY project, our Ratten Reed Diffuser set is the perfect choice!
To use, combine 1/4 cup (approx. 4 tablespoons) of any Piping Rock carrier oil with 25 drops of your favorite Piping Rock essential oil(s) in the glass jar. Place the reeds in the jar and let sit for a few hours, then flip to help speed the process of the oils soaking in the diffuser sticks.
Place in any room and enjoy the delightful steady aroma of your favorite essential oils! Flip the sticks every few days to refresh the aroma. The glass containers are reusable and can be washed using warm water and a soft cloth.
Piping Rock's Promise:
We proudly offer you everything you need for an advanced, daily Aromatherapy regiment at the lowest cost in the industry! From Essential Oils to Carrier Oils, Diffusers to Blending Bottles, Beeswax, Books & more, we have you covered. With over 100 Essential Oils to choose from, you can create your own homemade scents and beauty products. Enjoy various blends & Essential Oils Sprays or experience our revitalizing, botanical Massage Oils!