Edamame Roasted & Salted, 1 lb (454 g) Bag, 2 Bags
Salty. Crunchy. Delicious!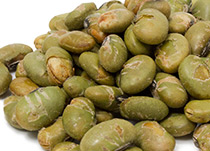 Usually served boiled or steamed in the pod and served with just a touch of salt, now you can enjoy these traditional green beans as a snack anytime with Piping Rock's Dry Roasted & Salted Edamame Seeds!
Enjoy them on their own, with your favorite dried fruit for a balance of sweet and salty, or even in salads as a crunchy treat!
Edamame is the Japanese term for "stem bean." It earned this moniker from the traditional method of boiling the pods while still attached to the stem. Edamame are actually immature soy beans, hence their distinct green color, and are enjoyed around the world for their fresh, nutty flavor.
Other Sizes