Cranberry Citrus Fragrance Oil, 1/2 fl oz (15 mL) Dropper Bottle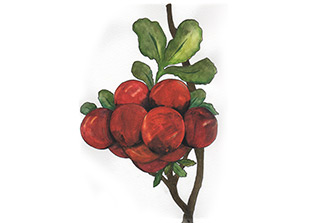 A staple of the holiday season in North America and England, cranberries are a unique culinary delight, their distinct tart-sweetness usually found served alongside turkey dinner enjoyed with loved ones. Thanks to this, these small, deep red berries often hold a sense of nostalgia for many people, whether they enjoy their strong flavor or not! Cranberries are often paired with citrus fruits such as oranges to add a touch of zestiness and cut some of the fruit's natural tartness, creating not only a delicious flavor, but an intoxicating aroma that will brighten any room, and now you can harness this festive scent with Piping Rock's Cranberry Citrus Fragrance Oil!
Fragrance
Fresh and tart aroma, with a splash of citrus zest
History of Cranberries
Cranberries grow on evergreen dwarf shrubs that can be found in bogs throughout the cooler regions of the Northern Hemisphere. These holiday staples have been enjoyed by the people of these areas for generations, the first documentation being in 1550 when James White Norwood noticed Native Americans using these tart berries for both food and to make red dyes. Since then, cranberries have found their way into recipes around the world, often sweetened to cut their natural bitter tartness, and can be found in juices, jams, sauces and other desserts.
How to Use Cranberry Citrus Fragrance Oil
Add the festive scent of Cranberry Citrus fragrance oil to your candle making, incense, potpourri, soaps, deodorants and other bath and body products!
To learn how to make your own unique homemade candles, check out this simple step-by-step on The Pipe Line!
Other Sizes
Related Products