Tobacco Fragrance Oil, 1/2 fl oz (15 mL) Dropper Bottle
Temporarily Out of Stock
Please check back soon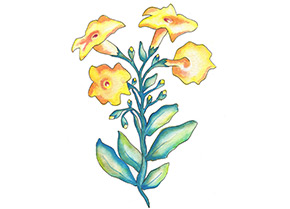 Our Tobacco Fragrance Oil perfectly captures the essence of unlit pipe tobacco—sweet, woody, and rich in scent. The aroma reminds us of a traditional gentleman's study, where leather chairs and tweed suits are warmed by the inviting fireplace. We love this scent on its own for masculine colognes, but also for lending its rich sweetness to add depth to fragrance blends. Try using it to create a spiced holiday scent!
Fragrance
Sweet, woody, rich, and mellow
Flash Point
275°F
History of Tobacco
Tobacco has been a staple in the Americas since ancient times; the plant and its fragrant leaves have been cultivated in Mexico since 1400 B.C.! Native American tribes found great spirituality in the tobacco plant. They believed it was a gift from the Creator, and that inhaling, then exhaling the smoke of tobacco would bring their prayers to the Creator. By 1700, tobacco plants and products had become a major industry in Europe, and have seen tremendous popularity since in numerous applications.
How to Use Tobacco Fragrance Oil
Add the rich aroma of tobacco fragrance oil to your candle making, incense, potpourri, soaps, deodorants and other bath and body products!
To learn how to make your own unique homemade candles using tobacco oil, check out this simple step-by-step on The Pipe Line!