Symbiotropin (Berry), 40 Packets
41484
This is a carousel with one large image and a track of thumbnails below. Select any of the image buttons to change the main image above.
Symbiotropin (Berry), 40 Packets
41484
Size:
1 | 40 Packets
- In Stock
More Information
Supplement Facts
Serving Size:

2 Packets

Servings Per Container:

20
product

Amount
Per Serving
% Daily
Value
(DV)
Total Calories
8 Amount
Per Serving
Total Carbohydrate
3 gAmount
Per Serving
1 %

Daily Value

Sodium (as Sodium Bicarbonate/Sodium Carbonate)
180 mgAmount
Per Serving
8 %

Daily Value

Potassium (as Potassium Bicarbonate)
600 mgAmount
Per Serving
17 %

Daily Value

Symbiotropin® Blend

L-Glutamine, L-Arginine L-Pyroglutamate, L-Lysine Hydrochloride, Glycine, AlphaSize® Alpha-Glyceryl Phosphoryl Choline (A-GPC), Gamma Aminobutyric Acid (GABA)

3.7 gAmount
Per Serving

†
Other Ingredients:
Citric Acid, Natural and Artificial Flavor, Magnesium Oxide, Stevia Extract.
Directions:
Dissolve 2 Symbiotropin sachets in 4-6 oz of water. Stir and drink immediately. It is best to take Symbiotropin at bedtime 2-3 hours after last meal. Take for 5 days and skip 2 days. Repeat cycle. We recommend you take Symbiotropin for a full 3 months before assessing your results. After 3 months, skip 1 month and repeat cycle.
WARNING:
*These statements have not been evaluated by the Food and Drug Administration. This product is not intended to diagnose, treat, cure or prevent any disease.

Keep out of reach of children. Do not take this product if you are pregnant or nursing. Do not take this product if you have hepatic disease, renal disease (or any other condition that impairs potassium excretion), hyperkalemia, hyperlysinemia or are anuric.

Do not use this product if you are taking sulfamethoxazole, trimethoprim, indomethacin, potassium sparing diuretics, beta-adrenergic blocking agents or ACE inhibitors.

As part of the effervescent delivery system, Symbiotropin contains potassium. Supplements that contain potassium can lead to problematic interactions with these drugs, and should be avoided. In general these drugs enhance potassium levels in the blood. A patient using an ACE inhibitor, beta-adrenergic blocking agents or potassium sparing diuretics is advised to discuss these issues with their prescribing doctor, a pharmacist or a nutritionally-oriented healthcare professional. Not intended for people under the age of 18. Always consult your physician or healthcare provider about possible drug interactions before taking any dietary supplement. Store in a cool, dry place.
PipingRock's Passion for Quality is Backed by In-house Advanced Analytical Testing
PipingRock guarantees the highest quality because we design, manufacture, and test our supplements in our own state-of-the-art facilities.

Non-GMO Promise
At PipingRock, your health is our #1 priority. Genetically Modified Organisms (GMOs) are present in many dietary supplements, even though they have not yet proven safe for long-term consumption. PipingRock's commitment to bringing you safe, natural, premium-quality ingredients only does not allow for GMO uncertainty.
100% Satisfaction Guaranteed
We stand behind the quality in our products. If you are unhappy with your PipingRock product for any reason we will issue a full refund in accordance to our Return policy.
Symbiotropin (Berry), 40 Packets
41484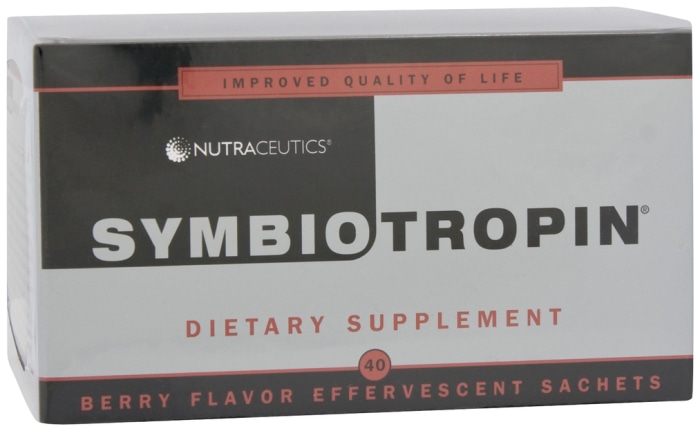 Symbiotropin (Berry), 40 Packets
41484
Size:
1 | 40 Packets
- In Stock
PipingRock.com
1-1 of 1 customer reviews
Sala
SalaSala
Jul 18, 2021
Reviews 2
Showing 1 - 1 of  1  results.