What is Peach Oil?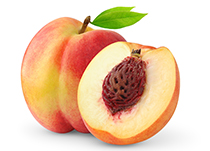 Prunus persica, a deciduous tree native to northwestern China, has long been treasured for its fuzzy fruit of the same name. Peaches have long been considered a symbol of longevity in traditional Chinese customs… and it's no wonder, since the oil is a powerful anti-aging skin supporter! Pressed from the pits of these familiar fruits, see for yourself why Piping Rock's 100% Pure Peach Kernel Oil is the ideal moisturizing and rejuvenating skin care oil!
What does Peach Oil do?
A light, fast absorbing oil, peach oil helps soften fine lines and restores a healthy glow to the skin. It naturally supplies essential fatty acids, antioxidants and vitamins A, B & E, providing excellent moisturizing properties to help soothe skin and promote soft, youthful suppleness. Our peach kernel oil can even be used as a luxurious hair oil!
Try adding your favorite essential oils to customize your oil! This non-greasy, fast absorbing oil is suitable to use beneath sunscreen and make-up.
Other Sizes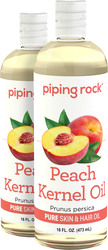 Related Products