Nutritional Support for Dogs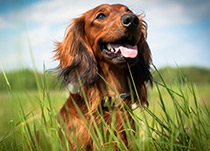 Just like humans, our furry four-legged friends need a healthy supply of beneficial omega-3 essential fatty acids that may be missing from their diet. Featuring EPA and DHA, each soft gel contains nutrients to help support your dog's healthy skin, coat, joints, heart, brain and vision.
Piping Rock's 100% Pure Omega-3 Softgels with Lemon Flavor for Dogs are derived from nature's finest omega sources: wild anchovies, mackerels and sardines. We guarantee each batch to be purified to eliminate mercury and other heavy metals, as well as contain no artificial colors or flavors, ensuring your pet gets only the best quality nutritional support!
Other Sizes
Related Products