Pumpkin Seed Oil Cold Pressed (Organic), 16 fl oz (473 mL) Bottles, 3 Bottles
Centuries of Wholesome Nutrition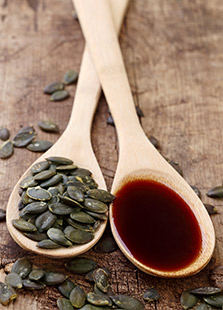 Introducing Piping Rock's Organic Pumpkin Seed Oil!
Cold-pressed from the roasted, hulled seeds of pumpkins (also called pepitas), pumpkin seed oil contains polyunsaturated essential fatty acids, such as linoleic, oleic and stearic acids. These beneficial nutrients are to thank for the oil's impressive nutritional profile!
Featuring a distinct (and strong) nutty flavor, pumpkin seed oil makes a wonderful addition to many dishes. Pumpkin Seed Oil is used in making salad dressings and in enhancing both the flavor and nutritional profile of desserts, soups and sauces. Cooking with pumpkin seed oil reduces polyunsaturated essential fatty acid content.
Cold Pressed Pumpkin seed oil can also be used topically as a lush skin moisturizer and in hair oil treatments! Do not apply to broken or irritated skin or areas affected by rashes. Avoid contact with eyes.
Other Sizes
Related Products