Pumpkin Seeds Raw Unsalted (No Shell), 1 lb (454 g) Bag
Enjoy an Autumn Favorite Year-Round!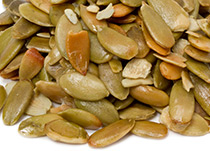 Classic light flavor and crunchy-meets-creamy texture team up in this healthy snack classic! Pumpkin seeds naturally contain protein, phosphorous, iron, dietary fiber, and antioxidants, making them not only delicious, but nutritious as well!
Get your bag of Piping Rock's Raw Unsalted Shelled Pumpkin Seeds and let yourself enjoy them by the handful!
Pumpkin seeds are also known as pepitas, which is Spanish for "little seed of squash." These flat, oblong seeds have long been a favorite snack in Russia and Ukraine, in addition to being a key ingredient in many Mexican cuisines and an autumn time seasonal snack in the U.S.!
Other Sizes
Related Products