Crunchy, Salty Goodness!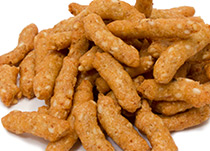 Fresh and crunchy with just a pinch of salt, Piping Rock's Sesame Sticks are made from the best quality sesame seeds.
These deliciously bite-sized treats boast the rich, nutty flavor that has made sesame seeds a popular addition to cuisines around the world. Whether you're looking for a satisfying midday snack or the perfect addition to your salads, these sesame sticks are a must-have in any pantry!
These tiny seeds are harvested from the pods of the annual flowering sesame plant. Sesame seeds have one of the highest oil contents of all seeds, creating the nutty and versatile sesame oil that is used in cooking around the world!
Other Sizes
Related Products