What is Babassu?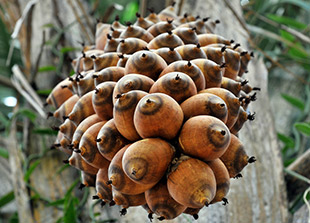 Also known as cusi, babassu (Attalia speciosa) is a palm tree native to the Amazon region of South America. Babassu oil is a vegetable oil cold-pressed from the kernels found inside the oblong, rust-colored nuts. These unique seeds reach 6" long and grow in bunches, sometimes reaching 600 nuts in one bunch! Babassu oil is notably similar to coconut oil, often being used as a substitute.
What does Babassu Oil do?
Now you can benefit from this wholesome nut with Piping Rock's Organic Babassu Oil! Indulge in the lush hydration as your skin soaks in luxurious moisture while enjoying the skin-protective benefits babassu oil has to offer. Use as a hair oil for radiant locks, conditioned and touchably-soft. For some, this oil emits a cooling sensation upon contact as it gets to work as an emollient for both dry and oily skin. This oil leaves no greasy residue and also makes for a great vegetable oil in homemade soap making!
Other Sizes
Related Products