Sunflower Seeds Raw (No Shell), 1 lb (454 g) Bag
Enjoy 'Em by the Handful!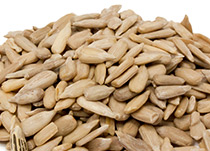 A timeless snack invoking nostalgic memories of cracking open the black shells to get to the tasty seed inside, sunflower seeds are a staple snack around the world!
Nutritious as they are delicious, sunflower seeds supply beneficial nutrients such as essential fatty acids, fiber, protein, calcium and other vitamins and minerals.
Whether you're looking for a healthy snack to enjoy by the handful, want the perfect garnish to your salads and yogurts or even making your own trail mix, Piping Rock's Hulled, Raw & Unsalted Sunflower Seeds are the smart snack choice!
Other Sizes
Related Products